Naked Bears Need Your Help!
Posted by Jami Brynildson on
Since 2005, members of the Knitting Bee community have dressed over 800 comfort teddy bears headed to Oregon's
Camp Erin
, a transformational bereavement camp for children and teens ages 6-17 who have experienced the death of someone close to them. It is a weekend-long experience filled with traditional, fun camp activities combined with grief education and emotional support – led by grief professionals and trained volunteers. Camp Erin provides a unique opportunity for peer bonding between children and teens facing a similar life circumstance. Camp is offered free to all families.
The first Camp Erin was started in Washington state in 2002 by baseball player Jamie Moyer to honor the spirit of Erin Metcalf, a child he met through the Make-A-Wish Foundation. In 2005, the Moyer Foundation partnered with Portland's Providence Hospice to hold the first Camp Erin in Oregon. Fast forward to 2016. Camp Erin is now held annually in 45 different locations across the US, serving over 3000 kids every summer.
Every Camp Erin is a little bit different. When the Oregon camp began, the Camp Coordinator just happened to be a Knitting Bee customer. At the Washington camp, each camper was greeted by a comforting teddy bear on their bunk bed. Customers at a Seattle-area yarn shop were knitting sweaters for the bears. Would Knitting Bee customers be interested in knitting sweaters for the Oregon camp? Of course we would! And so began our partnership with Providence and Camp Erin.
Every year around Memorial Day the naked bears arrive and our drive for bear clothing begins. Some of the bear outfits are elaborate, others are simple. Creativity and stash busting are always encouraged. Our most popular pattern is  Mr. Bear's Top Down Cardigan (which is also suitable for Mrs. Bear). You can substitute a DK weight yarn and US #6 needles to fit smaller bears.
Thank you and hugs to everyone who has knit and crocheted bear outfits over the years. Together, we are making a difference in our community with our crafting!
xo
Oregon's Camp Erin is supported by donors, Providence Health & Services and The Moyer Foundation. More information about Camp Erin locations around the US can be found here.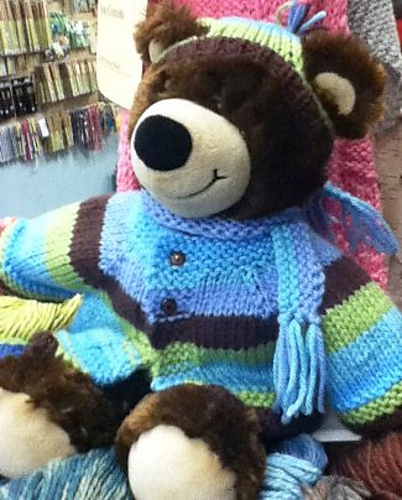 Mr. Bear's Top Down Cardigan, Hat & Scarf
Our basic patterns for dressing teddy bears headed to Camp Erin. The little cardigan is knit all in one piece with garter stitch edging. Fits the average bear, but bears do vary! Experiment with different weight yarns and needle sizes to make the cardi larger or smaller and adjust body and arm length as needed. Try adding novelty yarns, stripes, or colorwork. Embellish with buttons, charms or patches. Be creative, and make sure to knit a matching hat or headband!
Materials:  
Worsted weight yarn (about 200 yds)
US size #6 & #8 circular and double pointed needles
Stitch markers, stitch holders or waste yarn, darning needle
Gauge:  18 - 20 stitches = Approx. 4" in stockinette stitch
Finished Chest Measurement:  Approx. 15" around
Cardigan Directions:
Cast on 58 sts with smaller needle and begin neckband.
Rows 1-7:  Knit.
Row 8:       K9, place marker, K11, pm, K18, pm, K11, pm, K9.
Change to larger needle and begin increasing for yoke.
Row 9 (Right Side):  (K to 1 st before marker, increase by knitting into front & back of st, slip marker, increase again) repeat 3 more times, K to end. (8 sts increased)
Row 10 (Wrong Side):   K5, purl to last 5 sts, K5
Repeat last two rows, increasing 8 sts every RS row as instructed, until work measures 4 ½" along the raglan edge (including the neckband). End after completing a WS row. Slip sleeve stitches onto holders or waste yarn.
Continue to knit body as established with 5 st garter edging until piece measures 1" from the underarm. Switch to smaller needles and knit 8 rows for garter stitch bottom edge. Bind off loosely.
Transfer held sleeve sts to double pointed needles or magic loop. Attach yarn and knit all sts; join for knitting in the round. Knit 5 more rounds, until work reaches about 1" or desired length. Switch to smaller needles and work garter stitch edging (knit 1 round, purl 1 round) for 8 rounds total. Bind off very loosely. Weave in all ends.
Seamed Stocking Hat to Accommodate Bear Ears
Directions:
Cast on 57 sts. Work in garter st or K1, P1 ribbing for 1".
Change to stockinette st and purl 1 row.

Make holes for Mr. or Mrs. Bear's ears.
Next row (RS): K4, loosely bind off 9 sts, K8, BO 9 sts, K25.
Next row: P26, cast on 9 sts, P9, cast on 9 sts, P4. Work 6 rows in stockinette st.
Begin decreasing for top of hat.
Row 1: *K5, K2tog, repeat from *, ending with K1. (49 sts remain)
Row 2 and all even number rows: Purl.
Row 3: *K4, K2tog, repeat from *, end with K1. (41 sts remain)
Row 5: *K3, K2tog, repeat from *, end K1. (33 sts remain)
Row 7: *K2, K2tog, repeat from *, end K1. (25 sts remain)
Row 9: *K2tog, repeat from *, end K1. (13 sts remain)
Pull end of yarn through remaining loops and cinch top of hat closed. Cut yarn leaving a 12" tail. Sew seam closed using mattress stitch. If desired, top with a pom pom or tassel.
Garter Stitch Fringed Scarf
Scarf Directions:
With large needles, cast on 60 sts very loosely. Knit 4 rows. Bind off all sts very loosely.
Make fringe.
Cut 12 – 4" pieces of yarn. Take 2 pieces, fold in half, and use a crochet hook to pull loop through end of scarf. Pull ends through loop and tighten knot. Make 3 knots at each end of scarf.
0 comments